How to do a remote daily stand-up
How do you bring your team on the same page? How does everyone know what each other's working on? Daily stand-ups. It's a simple way to get everyone in sync and help each other in case of a roadblock.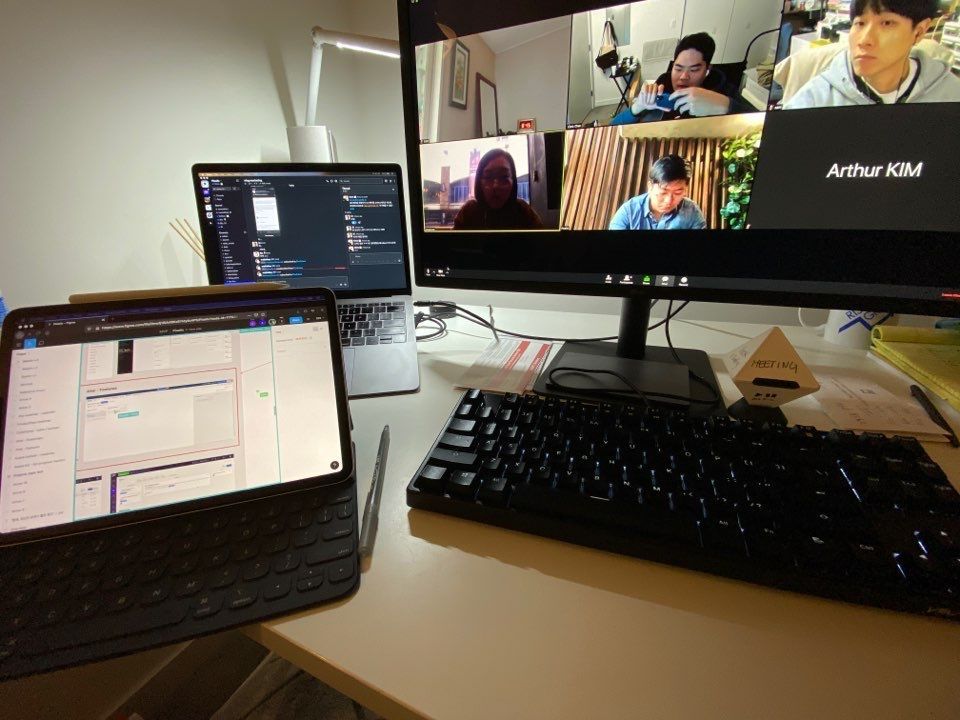 But in a remote setting, it's not easy to sync with everyone across different timezones and areas. For a remotely working team, a simple, 10-15 minute meeting to share progress could mean doing stand-ups middle of the night or sacrificing dinner time with the family. Remote daily stand-ups shouldn't be run the same way you'd run an office, offline stand-up. It takes different measures and approaches to ensure your team stays on track and respects boundaries for each other.
First, find a time that works for the team.
Most traditional daily stand-ups occur during mornings. It makes sense; mornings are often used to plan the day and have a small talk with the team. But for remote teams, to accommodate daily stand-ups during mornings in one time zone, some people in other timezones will inevitably join when the sun goes down.
And this is fine — as long as there are ways to make sure people on one timezone aren't dragging the others into its regular business hours. Find a time that works best for all of the timezones in consideration, not just one. Not one timezone should take priority simply because that's where most people live in or worse yet — the leadership lives.

Our team regularly hosts daily stand-ups at 3:00 PM, Pacific Time. This allows people in the U.S. wrap up their days with daily sync, and people in South Korea start their days at 7:00 AM by checking in with others.
Daily stand-ups don't necessarily have to be about what I did yesterday and what I'll do today.
Daily stand-ups are usually about what you did yesterday, what you'll do today and any obstacles and roadblocks in progress. For remote teams with different timezones, this doesn't fit in 100%. Depending on the timezone, dates should be altered. For people wrapping up their days, ask them the following questions instead:
What you did today (Done)
What you'll do tomorrow (Doing)
Discussion points
You can also talk about your daily lives. There's a reason small talks are "small", but for most remote teams, you need a consistent dose of them to build meaningful relationships among distributed members. How is everyone doing? What's a plus or minus in your day? Remote teams seldom get a chance to share these kinds of connections that you might get just too much in a traditional office. Use the time to build deeper personal relationships.
Leave a system of record of stand-ups.
It's challenging to track what others' are working on remotely. You don't want to wake your colleague or interrupt their flow just because you need to know what others are doing. At Pixelic, we have a dedicated Slack channel #daily_scrum to share progress via text. The first member of that day will open a scrum thread, and the rest will reply to that thread to share progress.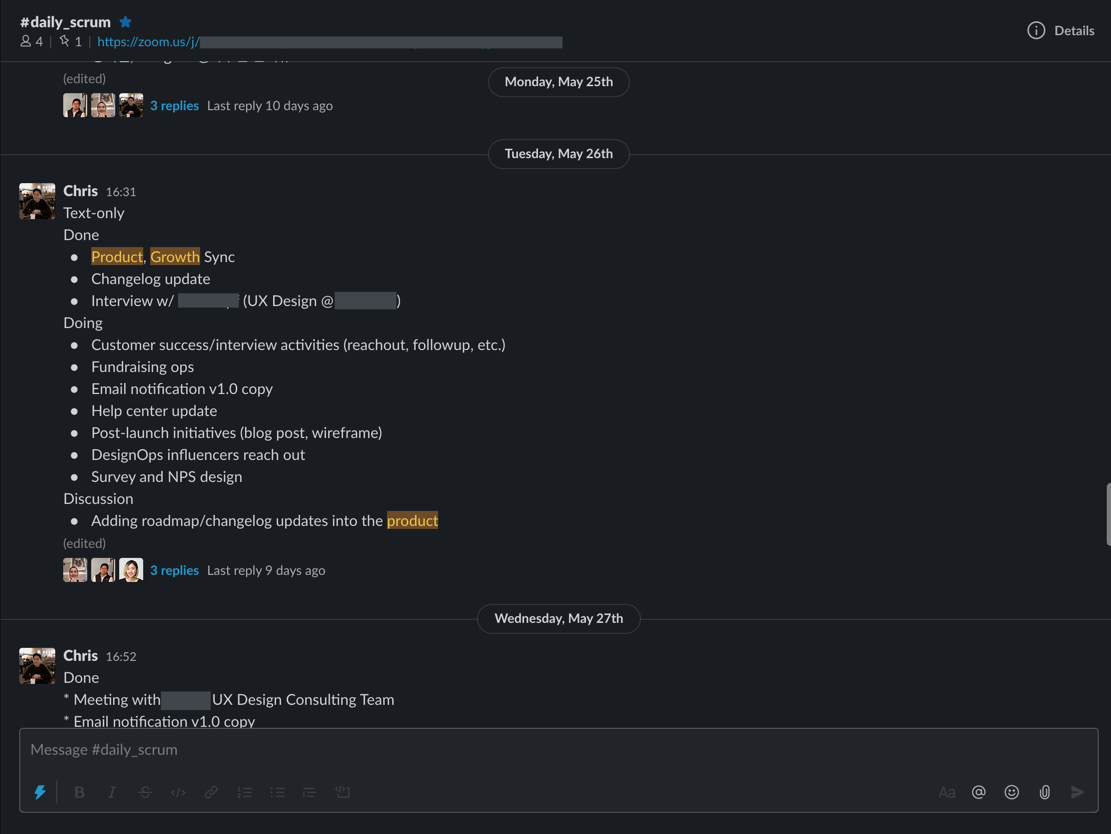 Having this system of record has a few benefits:
you can quickly find out what your colleagues are up to without bothering them
if you have a conflicting schedule and can't join daily stand-up, you can leave via text, so others are still up-to-date.
You can always go back to the stand-up records and make yourself more accountable.
Make daily stand-ups flexible.
Sometimes, you can't make daily stand-ups due to a personal matter. It's not fair for people doing stand-ups after regular working hours to join every single meeting. So make daily stand-ups flexible. There are many ways to make it more manageable for your team, but here are a few that we're doing:
If you have a conflicting schedule, you can share your update via text before the meeting happens.
Keep things brief to make sure a 10-15 minute stand-up doesn't turn into a 2-hour session. But it's also a chance to bring the team together and have more "face time."
---
Pixelic team is a 100% remotely working team. We're currently building Pixelic, a design-first product development platform that lets you collaborate on UX much more efficiently while creating a system of record for your product. We're in beta, so try today!