Welcome to our fifth Hyperlog, a log of updates, changes, and improvements to the Hyperinbox team and the product.
Product changelog
Re-designed Hyperinbox
We thought a lot about providing a clean, calm, and intuitive experience for our users. Introducing Hyperinbox 0.9.0 – our newest and (so far 🙌) greatest update.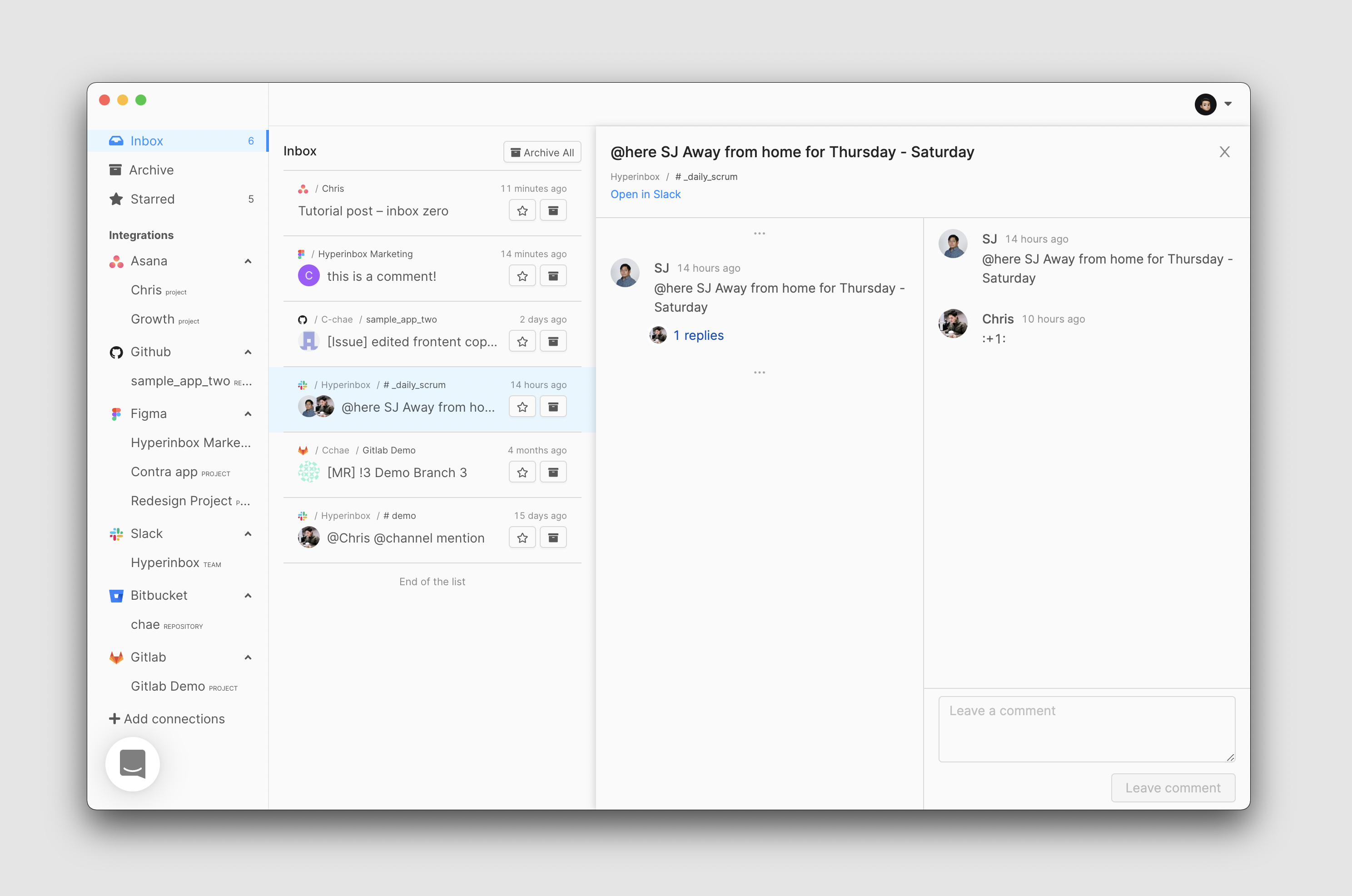 Updated keyboard shortcuts
Hyperinbox is designed with a keyboard-first approach. You can now fully control your Inbox items with your keyboard.
| Action | Shortcut |
| --- | --- |
| Global shortcut | ⌘ + Shift + X or H |
| Next/Previous Item | J/K or ↑/↓ |
| Archive an Item | E |
| Unarchive an Item | U |
| Open an Item | ⏎ |
| Leave a comment/reply | C |
| Go back to the Inbox | ESC |
| Go to Inbox | ⌘ + 1 |
| Go to Archives | ⌘ + 2 |
| Go to Starred | ⌘ + 3 |
New features
Figma
We changed up a bit with Figma integration. You now receive comment updates for any files that belong to any of projects you connected. We also grab the specific visual where the comment was made, so you can better understand what the comment is talking about.
You can reply to the comment directly in Figma as well.
GitHub/GitLab/BitBucket
We initially launched Pull Request/Merge Request notifications. You can now receive Issue notifications as well. As always, you can read the description, comments, and you can leave a comment/reply to the PR/MR/Issues now.
Improvements
Updated UI to make it easier to immediately see which items are in my Inbox
Changed UI color New loading motion graphics
Lots of bug fixes
---
As always, we appreciate your interest/feedback and we would love to talk to you. If you would like to chat, reply to this email and let us know.